As we prepare to ring in 2013, here, in no particular order, is my top 5 for 2012.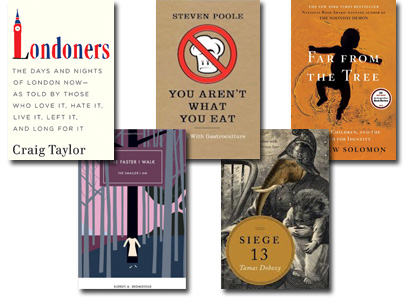 Nonfiction
Londoners by Craig Taylor
These oral testimonials create a living, breathing portrait of a city. I was happy to see the book turn up on two out of three National Post critics' lists on the last Saturday of the year, proving my love for it isn't too too swayed by my personal love of London.
You Aren't What You Eat by Steven Poole
This smart and hilarious rant about foodie culture caught my eye in an advance edition  in the UK this past spring. I read most of it in a gastropub  and giggled away over my pint and wild boar sausages. Available only as an eBook in Canada, it's a steal at $1.99.
Far From the Tree by Andrew Solomon
Listen to Andrew Solomon talk about his book in this episode of CBC's The Sunday Edition and see if you can resist picking it up. Solmon's book about children, parenting and identity is both sad and hopeful, and holds relevance for us all.
Fiction
The Faster I Walk the Smaller I Am by Kjersti A. Skomsvold
This short novel about an old woman approaching death has echoes of Will Self and Alan Bennett. A terrific debut from a young Norwegian author that I was delighted to discover at this year's International Festival of Authors in Toronto.
Siege 13 by Tamas Dobozy
Dobozy emerged as the literary darling of awards season, with a Writers' Trust win and a GG nomination topping off a collection of absolute rave reviews. Linked short stories  about the lasting effects of Siege of Budapest, this collection stood out by a mile and deserved every word of praise.
Honourable Mentions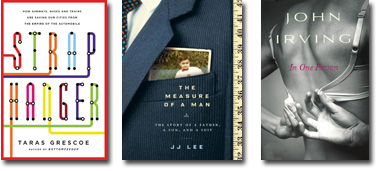 Straphanger by Taras Grescoe — an important and eminently readable book about urban transit. Watch out for the paperback in the spring.
The Measure of a Man by JJ Lee — a 2012 paperback (I came to it late). I was reading passages to people out loud I enjoyed it so much.
In One Person by John Irving — his best novel since A Widow for One Year. Too bad about the horrendous cover.