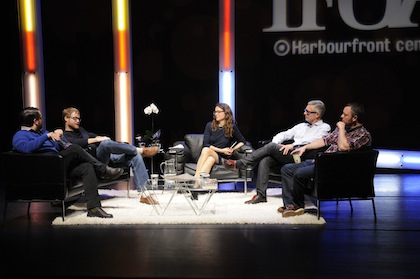 It's IFOA! (that's the International Festival of Authors, for the uninitiated), and squillions of authors are in town to talk about their books. On Sunday afternoon, I had the great good fortune to sit up on stage and chat to four of them:
Samuel Archibald, whose story collection Arvida was recently shortlisted for the Giller Prize
Nick Cutter, whose latest novel is The Deep
Benjamin Percy, whose latest novel is The Dead Lands
Andrew Pyper, whose latest novel is The Damned
We talked about putting the things that scare you into words and story (hint: all four authors have young children), whether it's scarier to spell it out or to keep it vague, and whether genre is dead, among other things.
Oh, and Stephen King came up quite a bit.
They were all thoroughly excellent chaps who have written thoroughly excellent books. All in all, a thoroughly excellent way to spend a late-October afternoon.
*Photo (l to r) Samuel Archibald, Nick Cutter, Becky Toyne, Andrew Pyper, Benjamin Percy
Pphotographer credit: ifoa.org / Tom Bilenkey